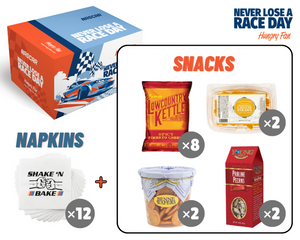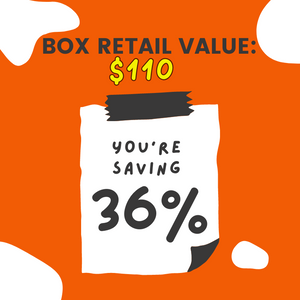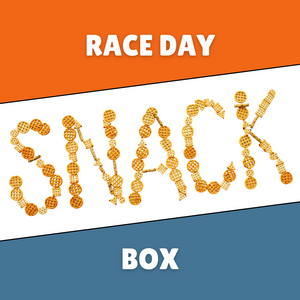 Race Day Snacking:
A Taste of the South 
Thinking about what to serve at your next game day celebration? We've rounded up some our favorite snacks from the south—including some tough-to-find artisanal goodies, and other yummies we found on our race day travels—and we've put 'em in a snack box! 
Serving 8 people, this assortment features a little sweet and a little savory and 100% tasty snacks to share with your friends and guests. You'll also find a fun little napkin set (because we couldn't resist). 


---
Racing-Themed Napkins

Listen, sometimes things get messy when it comes to snacks, and using any old napkin just won't do when you're hosting on race day. Your snack spread is going to look extra-pro with this napkin set. It's a cheeky nod to our favorite fictional race car drivers, Ricky and Cal. So go ahead, get a little dirty...and clean up in style... 😉 

Locally Sourced Goodies
If you're familiar with South Carolina Lowcountry life, then you probably know that Benne Wafers are a cultural staple. The main ingredient, sesame, is a Colonial-era crop planted heavily in the South Carolina sea islands and has a milky, buttery flavor. But once toasted, the sesame's flavor evolves into an almondy-peanutty taste that is just too good to resist (and, honestly, gives a hint of Cap'n Crunch, which takes us back).

We chose this brand, which has been selling wafers since 1940, because their recipe dates back well over 100 years and is said to be the only existing original Benne Wafer recipe. Ah-mazing.
Historically, cheese straws came about in the mid 1800s as a way of preserving cheese in the hot and humid South. But they really became a "thing" in the 1950s and early 1960s with the rise in popularity of puff pastries and other canapés as hors d'oeuvres. And today they remain a popular South Carolina offering at parties, house warmings, and cocktail get-togethers. We had to include these because not only are they regionally popular, but they're also just downright delicious—they're the right amount of cheesy indulgence with a snappy crunch that makes it hard to eat just one...or, well....anything less than the whole pack.
These irresistible golden pecans are roasted with a maple syrup, brown sugar, and a pinch of salt for the perfect balance of sweet 'n' salt. And while the praline-ization of nuts is something you'll find all around the South, we chose these praline pecans because they're made less than 8 miles from the raceway! We're nuts about this salty-sweet treat, and we know you will be too!
We first discovered this new, emerging brand at the local Lowcountry gas station, and we immediately fell in love. It's kind of mind blowing just how much these babies taste like spicy pimento cheese. And pimento cheese is maybe the most popular dip in South Carolina, if not the entire South. Everyone loves it, us included. So nice the company is a local start-up (we love supporting small and local businesses) and makes legit quality chips, we had to include them. Bonus points for just how packed full of chips each bag is and for how luxurious the actual bag itself is. (You'll get it when you see it!)
Listen, sometimes things get messy when it comes to food, and using any old napkin just won't do when you're hosting on race day. Your food spread is going to look extra-pro with these commemorative Darlington napkins. So get a little saucy and clean up in style! Or frame them as a memento…we won't question it.


---
THIS BOX SERVES 8.
Box items subject to change.