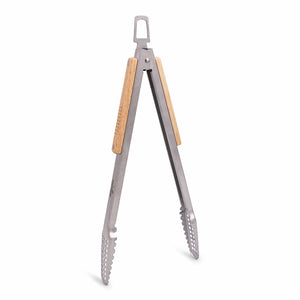 Defy flames and level-up your grill game with our 16" BBQ Grill Tongs. A pitmaster's favorite tool, these monstrous tongs are our longest model and are guaranteed to handle your most mammoth grilling jobs. 
DURABLE MATERIAL: Crafted for seasoned BBQ grillers with high quality stainless steel and damage resistant oak wood.
SAFE & RELIABLE: Long handles allows you to keep your hands cool while maintaining control. Wooden oak handle prevents heat from reaching your hands making GRILLHOGS tongs the perfect large tongs for cooking.
COMFORTABLE GRIP: The sturdy and smooth wood oak handle makes this one of the best grill tools available. This is a must have for your ultimate BBQ accessories set up.
LOCK & HOOK: Use the Lock and Hook feature to keep your tongs for grilling neat and compact.
HUNGRY FAN COMMUNITY: By purchasing this product, you now become part of the largest community of game day and entertainment enthusiasts! We value the quality and durability of our products and strive to produce the best grilling accessories for you. We have absolute faith in our products and offer a money back guaranteed if you are not satisfied. No-questions-asked, no hassle.