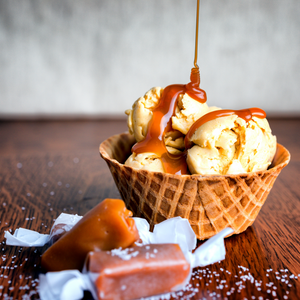 Go from pitmaster to pint master with our electric ice cream maker. Whether you're making ice cream for the family or just yourself, you'll have a delicious, made-to-order dessert in about 30 minutes—without salt, ice, or cranking. From classic vanilla and chocolate to flavorful creations with candy, nuts, cookie dough, or fruit pieces, prepare your taste buds for craving crushing treats!
JUST RIGHT: Compact and stylish, this ice cream machine makes up to one pint of tasty ice cream in about 30 minutes! It's the perfect addition to family movie night…or an indulgent night home alone.
HANDS-FREE FUN: Toss that ancient ice cream bucket in the trash. With no cranking involved, just switch our ice cream maker on and watch the electric churning paddle do all the work. Now you can get back to partying!
NO MESS: Pop the double-insulated gel canister in the freezer, let it freeze, and you're ready to go! There's no messy ice or salt needed here. Plus, the gel canister is non-stick and makes cleanup fast.
GO NUTS: Use the handy ingredients shoot to add piles of yummy customizations. From candy to nuts to everything in between, make your ice cream your way!