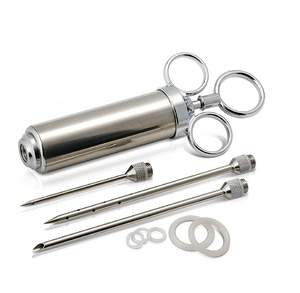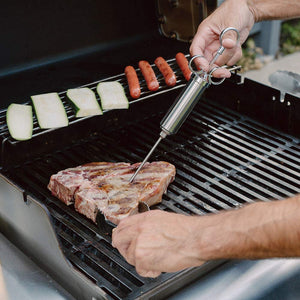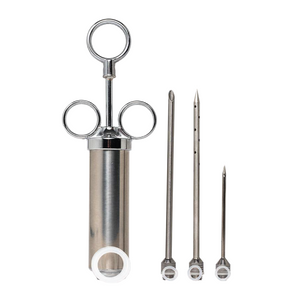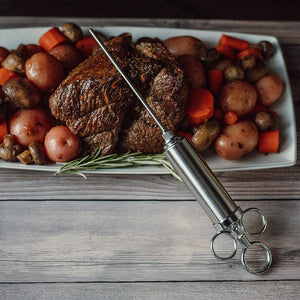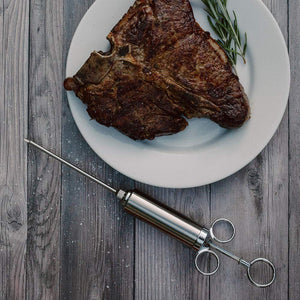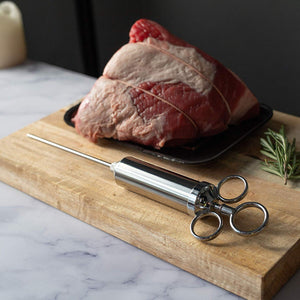 Become a cooking legend by creating ultra-flavorsome and super moist grills, roasts, and BBQs! Say goodbye to dry, mealy meat and disappointed dinner guests with the GrillHogs Marinade Meat Injector. 
MARINATE QUICKLY AND EASILY: Choose from three specialized, precision marinade injector needles for intense flavor in any cut of meat. This set includes a 6" 12-hole needle, a 6" angled needle, and a slender 3" needle for smaller cuts.
ALL YOUR FAVORITES: Our marinade meat injector is perfect for keeping meat tasty and improves the flavor of brisket, pork, chicken, turkey, lamb, goose, duck, and more! 
ONLY THE BEST MATERIALS: Made from the highest-grade, professional-quality stainless steel, we ensure that your new meat marinade injector is completely food safe and durable. All food-facing components, including the barrel, barrel nose, plunger, and needles, are constructed from 304 food-grade stainless steel.
EASY-TO-CLEAN: Never deal with a painful clean-up process. Our marinade meat injector is completely dishwasher safe, so you can spend more time with family and friends.