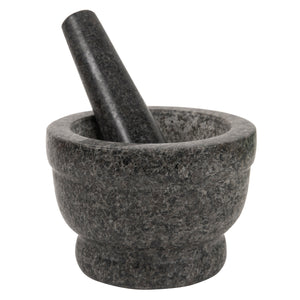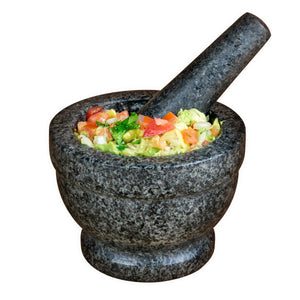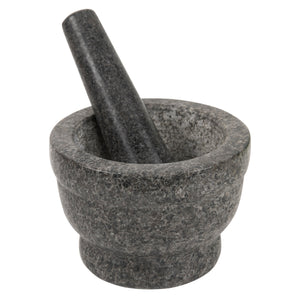 Crush, grind, and flavorize your fiery fiesta foods with the help of our essential Mortar and Pestle. This 5-inch granite powerhouse helps make amazing guacamole, spice up salsas, and extract pungent essential oils from dried and fresh herbs. You'll be wowed by how this Mortar and Pestle keeps the flavor in your food and not in the tool.
WHIP UP ALL YOUR FAVORITES: Make fresh salsa, guacamole, hummus, pesto, and more with this the ultimate fiesta tool. You can even use it to effortlessly crush nuts, seeds, cinnamon, and mint.

SUPERIOR GRINDING: Smooth exterior with a rough interior is perfect for crushing avocados, cilantro, garlic, and spices. Plus, the heavy, durable granite ensures stability throughout the grinding process.

MAX FLAVOR: Traditional manual grinding ensures that all ingredients bring out their full flavor, allowing you to create the tastiest dish possible.

NEVER RUN OUT: Enjoy quick food prep! The sizeable 1.5-cup capacity allows you to grind large amounts of herbs and spices, reducing the need for multiple batches.