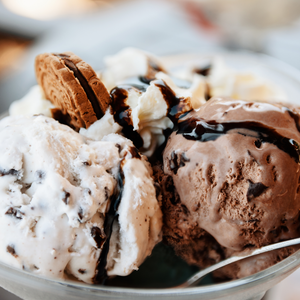 Go big or go home with our largest electric ice cream maker. Made for serious party hosts, this antique-inspired unit features a 6-quart wood bucket and durable churn paddle, so you can make mountains of delicious ice cream, frozen yogurt, and gelato. Enjoy a cone of classic vanilla or make a batch as exciting as your team's victory with candy, cookie chunks, fruit, and more. 
PARTY ON: This unit makes up to six quarts of incredible, crowd-pleasing ice cream. And leftovers? Pop your extra dessert in the freezer with the included lid and save the party for another time.
HANDS-FREE FUN: Toss that ancient ice cream churner in the trash. With no cranking involved, simply add your ingredients to the aluminum canister, place the canister in the bucket, layer with ice and salt, and let the electric motor do the rest. Now you can get back to partying!
GO NUTS: Customize your ice cream with yummy add-ins. From candy to nuts and everything in between, make your ice cream your way. You can even get creative and invent an ice cream that reflects your favorite team's colors.
ALL THE BELLS AND WHISTLES: This unit is equipped with real wood slats, a locking motor mount, easy-to-clean plastic liner, aluminum canister, storage lid, and recipe manual.