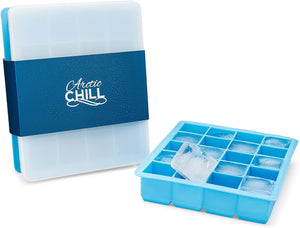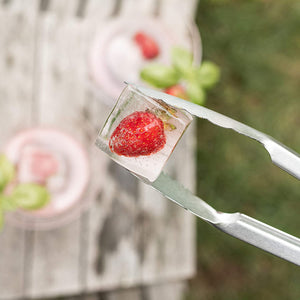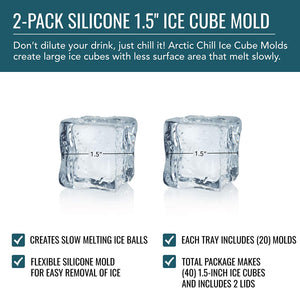 Things are about to get chilly when you grab one of Arctic Chill's 1.5" Silicone Ice Cube Trays from the freezer! These colossal cubes are guaranteed to keep your drinks frosty for longer than traditional ice cubes. Plus, our premium lidded trays make freezing, serving, and washing a snap!
DELICIOUS REFRESHMENT: Chill drinks without diluting them. These 1.5" slow-melting ice cubes keep your drinks cold and fresh. Try them out with whiskey, vodka, iced tea, coffee, and more.
GIVE YOUR DRINKS A TWIST: Elevate all your cocktails and specialty drinks with large, sleek ice cubes. You can even include garnishes, juices, and more for slow-melting add-ins.
BETTER THAN CONVENTIONAL PLASTIC: Our trays are made of flexible silicone, so you can grab ice without

battling a frustrating plastic tray.

This set of two allows you to make a total of 20 cubes.

KEEPIN' IT FRESH: The lidded design of our trays ensures your ice stays clean, so your drinks aren't tainted by funky freezer smells.
BPA-FREE AND FDA-APPROVED: You can safely use these premium ice trays in your freezer, dishwasher, and microwave.