Wearable flasks
Need to cleverly conceal a stash of wine while also enhancing your bust? There's a bra for that.
In my survey of tailgating and homegating products, I tend to stay away from fashion items and accessories just because they're not usually super necessary for a killer game day.
But today is different because I just unearthed what may be the craziest, funniest or potentially most useful product ever for the ladies: The Wine Rack. (So punny)! The product's description reads:
Turn an A cup into double Ds & sport your favorite beverage for yourself and your friends! Better than a Boob Job and Cheaper Too! Not to mention the savings on over priced drinks.

Take a bottle of wine, a mixed drink or even a fifth of your favorite hard stuff to the movies, concerts, ball games, even PTA meetings. Sporting a rack that will turn heads and serving a beverage that will have guys standing in line for a sip of your secret stash!With simple blow into the tube it's easy to keep that full look even as you drink from your secret stash.

Polyurathane bladder holds over 750ml or 25oz. of your favorite beverage.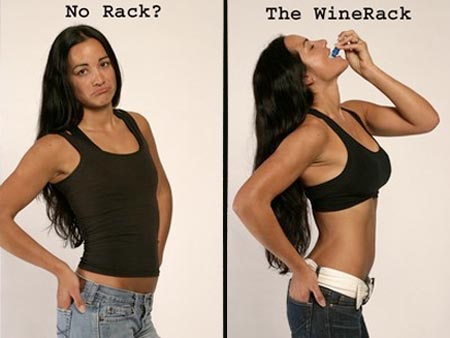 Now, I'll be honest. I have not tried this product and I don't know that I ever intend to because I'm not super into the uni-boob that you get from wearing a sports bra (unless I am playing sports or working out). But I have got to give this one points for creativity! In the very least, it makes for a great party trick on game day. And I am guessing it's probably pretty easy to get into a stadium to save some mulah on vino....
And for you gentlemen... I give you The Beerbelly. Hilarious.
The product description reads:
Polyurethane bladder looks like a beer belly when worn under clothing
Includes bladder and adjustable neoprene sling with custom-shaped pouch
Holds up to 80 ounces of any hot or cold beverage
Fits users up to 6 feet 8 inches tall and up to 40-inch waist
Easy to clean
So I suppose, until stadium and arena security teams catch on, we can save some bread at the beer kiosk and use these?
I welcome your comments and feedback.